Calendar / Kalender Poster 2016
€

11.00 On Sale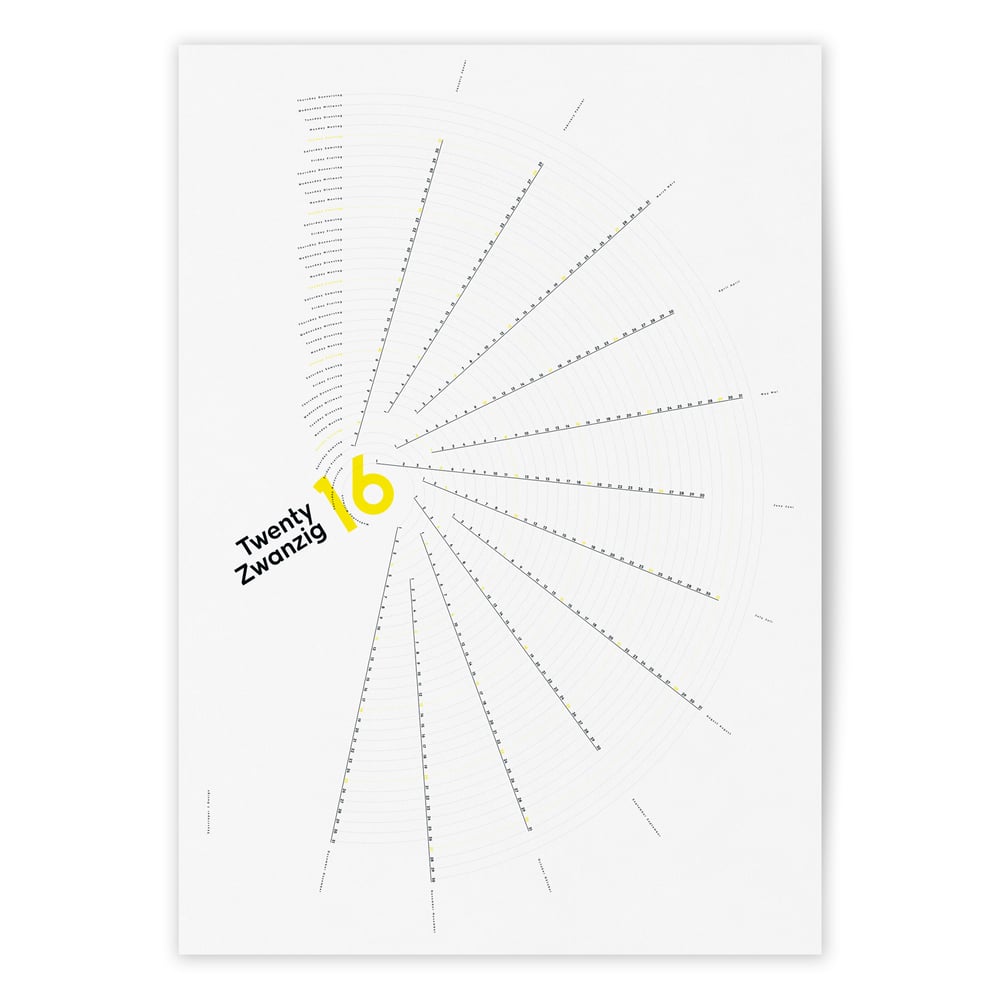 Ein großer Kalender im Format A1 (59,4 x 84,1 cm).
And the sun is coming up … 16!
Sechzehn – das ist nicht nur die Zahl des kommenden Jahres in unserem Jahrtausend – sondern auch die dem Design zugrundeliegende Ordnungszahl: So sind alle Strahlen der Monate um jeweils 16° gedreht, die Jahreszahl und der sogenannte Aufstrich der großen gelben "6" sind jeweils entgegengesetzt 32° (2x16°) geneigt.
Die verwendete Schrifttype heißt "Arnicae" und ist von Michael Leithner (Wien).
Hochwertiger Offset-Druck auf 100% österreichischem Recycling Papier (190g/m2) mit Bio-/Vegan-Farben.
Beschrifte den Kalender mit persönlichen Terminen, Geburtstagen, Urlauben und Ereignissen …
Beachte das praktische "Aufhänge"-Set, mit dem man den Kalender schick aufhängen und beschriften kann. Wird hier im Shop separat verkauft!
----------------
Sixteen is not only the number of our millennium's coming year but also the ordinal number of this design: Each month-beam is turned by 16°, the year's date and the so-called upstroke of the big yellow "6" is tilted by 32° (2x16° – no kidding!).
The font used is called "Arnicae" and is designed by Michael Leithner.
High quality CMYK offset print with vegan organic colors on 100% Austrian recycling paper (190g/m2).
Feel free to individualize the calendar by noting your dates, holidays, birthdays and other important events.
Check out the handy "installation" kit to hang and write on your calendar or any other poster (size: A1) – sold separately here in this online-shop.
Share